Welcome to my Aussie Bag Making Supplies Shop! Here you will find all my PDF Bag patterns in addition to a growing range of bag making supplies, all priced and charged in AUD. (For Video courses please see my International Website)
At this time I do not offer International shipping. As a result, International customers wishing to shop my PDF patterns in USD, please visit my International website.
My aim is to fill my supply shop with all the Interfacings, Stabilisers and Tools that I need and use on a regular basis for instance, in my bag making and designing. Firstly, try WovenFuse, its fantastic! Therefore everything you find here is trialled and tested and used by me unless otherwise stated in the listings. Secondly, sometimes I may have a product recommended to me by another trusted designer which I will recommend to you also. However if I don't like a product, you won't find it here!
​Shipping Times: Mon - Fri: I will endeavour to ship all orders received by 12.00 Midday on the same day. However many items are cut to order in which case please allow up to two days extra. Above all and most importantly if you need something in a rush, please let me know as therefore I will do my best to accommodate you!
Wonderful Clips - Large
PWClarge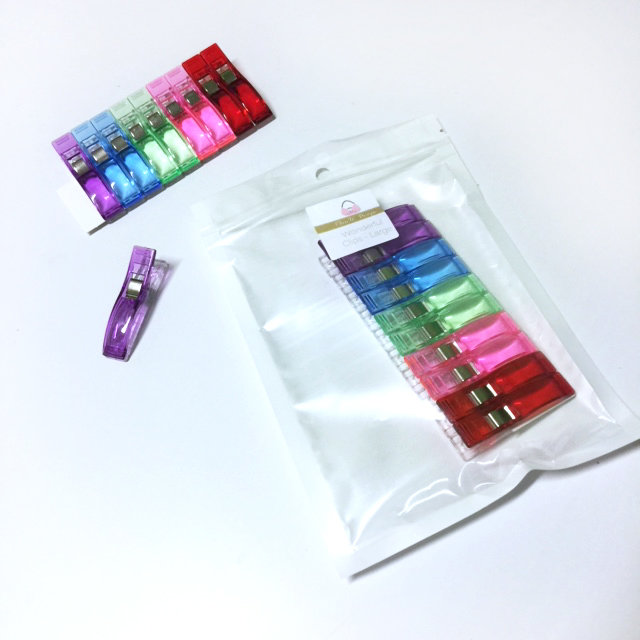 Description:
I was sent a packet of generic Wonder Clips about 18 months ago from a manufacturer to trial and have been using them ever since and have not had one break. I think they are every bit as good as the branded clips in strength and quality.
When I decided to sell notions, I researched and tried a number of other different generic clips, mostly cheaper. I wasn't happy with them so I decided sometimes it is better to pay a little extra for quality, so I have went back to that original manufacturer.
With these clips I think we have a WIN WIN situation because not only are they great quality, but they are MUCH more economical than the branded clips! ....and I think that is Wonderful! 🙂
Pack contains 20 clips 5.2x1.0cm - Mixed Colours.