Welcome to my Aussie Bag Making Supplies Shop! Here you will find all my PDF Bag patterns in addition to a growing range of bag making supplies, all priced and charged in AUD. (For Video courses please see my International Website)
At this time I do not offer International shipping. As a result, International customers wishing to shop my PDF patterns in USD, please visit my International website.
My aim is to fill my supply shop with all the Interfacings, Stabilisers and Tools that I need and use on a regular basis for instance, in my bag making and designing. Firstly, try WovenFuse, its fantastic! Therefore everything you find here is trialled and tested and used by me unless otherwise stated in the listings. Secondly, sometimes I may have a product recommended to me by another trusted designer which I will recommend to you also. However if I don't like a product, you won't find it here!
​Shipping Times: Mon - Fri: I will endeavour to ship all orders received by 12.00 Midday on the same day. However many items are cut to order in which case please allow up to two days extra. Above all and most importantly if you need something in a rush, please let me know as therefore I will do my best to accommodate you!
Fiona's Freeway
ESPFF17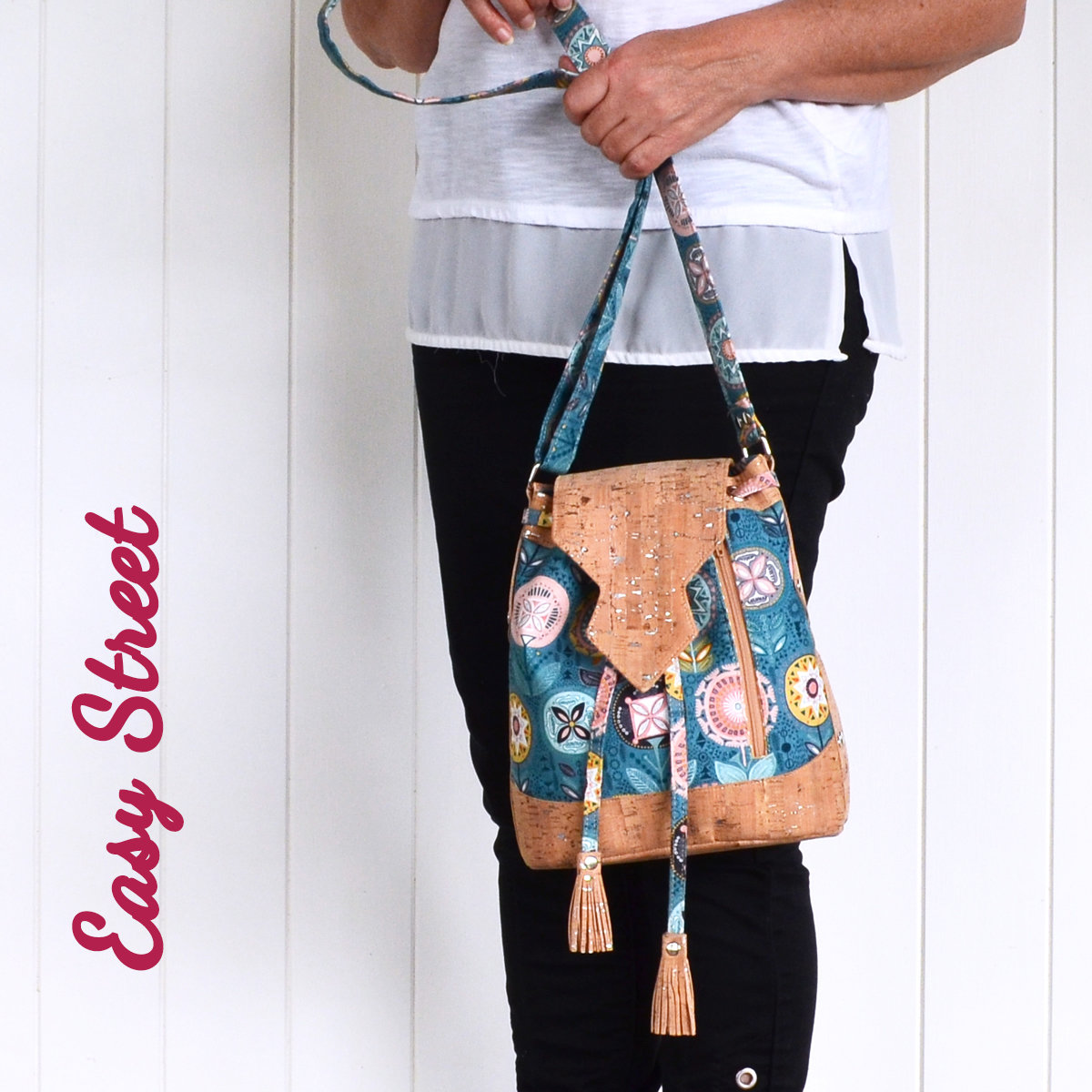 Features:
Fiona's Freeway is a fun smaller bag featuring a unique shaped flap, closing with a magnetic strap and grommets with a pull strap. The front of the bag features a vertical zipper pocket. Inside the roomy middle section is also another a zipper pocket and a slip pocket.
Also included is a large flap grommet free version for those of you who don't like installing grommets! This bag is perfect for cork or vinyl accents sewn on a domestic sewing machine.
Finished size: Approx. 23cm W X 25cm H X 9.5cm D (9" W X 10" H X 3 ½" D)
PDF Info:
The pattern for Fiona's Freeway has a full requirements list, 25 pages of comprehensive instructions which include 95 step by step colour photos. There are printing instructions and test squares to check your scale. Cutting measurements are provided in both metric & imperial PLUS 9 Pattern pieces are included for shaped pieces.

Cutting Labels are provided for measurement pieces for your convenience.

Materials:
*Exterior 1 (Cork)- 112cm (44") wide: 45cm (½ Yard)
*Exterior 2- 112cm (44") wide:45cm (½ Yard)
*Lining fabric - 112cm (44") wide: 90cm (1 Yard)
*Fusible woven interfacing: Pellon Shape-Flex SF101 - 51cm (20" W). Substitutes are Vilene G700, Therm-o-web HeatnBond or DHJ501: 2.75m (3 yards)
*Peltex 71F or Fast2Fuse or TimTex or Decovil: 21cm W X 10cm H (8 1¤4" W X 4" H).
*Fusible Fleece such as Thermolam Plus or Vilene H640: 26cm (10")
*Matching thread.

Notions:
*1 X Dress Zipper: 20cm (8") for Front Zipper Pocket
*1 X Dress Zipper 20cm (8") for Interior Zipper Pocket
*2 X 25mm (1") Rectangular Rings
*1 X 25mm (1") Rectangular Slider br>
*1 X 18mm (3¤4") Magnetic Snap
*8 X 10mm (3¤8") (Inner Diameter) Metal Grommets.
*1 X Large Cord Lock (For Fabric Grommet Bag without cork accents)
*1 X 18mm (¾") Ring (Optional for Large Flap Tassel)
*10 X Double Capped Rivets 9mm (Cap) X 8mm (Stem) OR Chicago Screws (Rivets are optional for an all fabric bag)
*Other Requirements: Double Sided Wonder Tape (or Glue suitable for glue basting – I use Elmer's Washable School Glue).
*Fray Stopper, Duct Tape, Hole Punches. Plus general sewing requirements